Marion Cares is a faith-based non profit agency in Marion, Iowa serving students and families in the Linn-Mar and Marion Independent school districts. Our services address academics,  family needs, poverty, social needs, and spiritual needs.
We serve in Marion neighborhoods. No transportation needed.
We rely on volunteers above staff.
We mainly partner with local churches, but we also partner with businesses, foundations, individuals, non-profit organizations, schools, and service clubs.
Our Neighborhoods
Marion Cares provides after-school and summer programs for students in three Marion neighborhoods.
Azure Apartments, 690 Bentley Dr, Apartments 8-10, Marion.
Marion Village Mobile Home Complex, 700 35th Street, Marion. 

Coming Soon

Squaw Creek Village Mobile Home Complex, 6201 Hennessey Pkwy, Marion. 

Coming Soon
Some of the recent success stories from Marion Cares…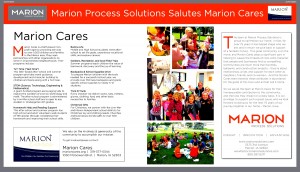 Corridor Business Journal (Feb 2015) thanks to Marion Process Solutions!

Free clothing and toys at Christmas for 317 children. (December 2014)

Free winter clothing, books and canned food for families in 3 neighborhoods. (Oct 2014)

Free after-school programs for 90 students a week in 3 neighborhoods (Fall 2014)

Free backpacks and school supplies for 454 students in K-12. (August 2014)

43 gently used bicycles to children. (Summer 2014)
Summer activities for 110 students a week in 3 neighborhoods (Summer 2014)
Click on this link to share what God is doing through Marion Cares. Tell Others What's Happening File

Our office is located at 1050 McGowan Blvd, Marion on the Marion Christian Church Campus. Phone or Email Director Joe Polzin at 377-5344 or joe@marioncares.org