A New Date and we added a Speaker!
Marion Cares celebrates the second Impact Citizen Awards!
Join Marion Cares on Thursday, June 4th from 5:30-7:30pm for an evening that recognizes the community impact of three special individuals as well as celebrate the many relationships that has made Marion Cares into such a valued resource for children and families in Marion.
The 2nd Annual Impact Citizen Award ceremony will be held at the Lowe Park Arts and Environment Center in Marion. The evening begins with a honoree reception featuring delicious gourmet hors d'oeuvres from Catering by LJ's. Award presentations follow with "the voice of the Marion Indian" (and retired Marion educator), Bob Hoyt as emcee. Beth Peterson, speaker and veteran will also join us. (see below)
Tickets are just $25/person.
The three distinguished honorees are:
Althea Cole is a lifelong resident of Cedar Rapids and has spent the past six year as a volunteer with Marion Cares. A graduate of Kirkwood College where she majored in Education, Althea uses her skills to create positive and encouraging experiences for children at Marion Cares and at the First Congregational Church o f Christ at the Wellington Heights neighborhood.
Dr. Vic Klopfenstein is a local community champion. He has served on the Marion City Council for 18 years and Mayor of Marion for 16 years. His professional career as a veterinarian spanned 42 years where he held a variety of leadership roles in the VM Association. As a member of Marion Cares Advisory Board, he is a passionate crusader for improving the lives of children. 

Sarah Pinion is currently serving as Superintendent for the Marion Independent School District. Her career as an educator began in her native home state of Illinois. She moved to Iowa as an elementary teacher, rose to become principal and eventually District Superintendent. Along the way, she has been actively involved in many community organizations. After 36 years, she plans to retire at the end of the school year.
Please contact Joe Polzin at the Marion Cares office at 319-377-5344 or email joe@marioncares.org for additional information. Visit http://www.marioncares.org/about-us/ to learn more about the organization.
Don't Miss our Speaker -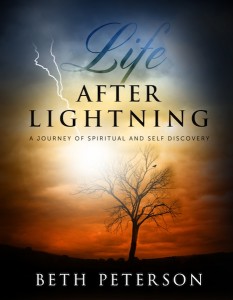 Beth Peterson has survived multiple lightning strikes and a brain injury and has written "Destination Heaven … and My Journey Back to Life."  She will speak for 20 minutes and also have her books available for sale.
Hear firsthand what took place on July 20, 1992 at Fort Benning, Georgia when Beth Peterson was first struck by lightning while guarding the base's ammunition storage point. Almost exactly one year later to the day she decided to face her fear of storms and was struck by lightning once again.
Join Beth on the voyage of her death and visit to Heaven following the first lightning strike, read her conversations with Angels and with God, stand by her side as she is shown the viewing of her life, and listen as she weighs the choice to stay in peaceful serenity or return to immense physical pain and emotional suffering on Earth.